« Peach Meringues: Solar Cooker Desserts
GreenJoyment
|
Solar Cooking and Solar Cookers
Solar Fruit: Kellie and Kristine's Solar Cooker Dessert »
Posted by Jonathan
Solar Cooker Desserts: Mark's "No Fail" Solar Cookies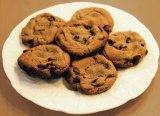 1 cup oats


1 cup flour


1 pinch salt


1/3 cup oil


1 teaspoon vanilla extract


1/2 cup sugar (white or brown)


1/2 teaspoon baking soda


1/2 cup chocolate chips and/or raisins


1/2 cup water
Note that the recipe calls for BAKING SODA, not baking powder. However, sometimes I put in 1/2 teaspoon of baking powder for additional fluffiness. Mix ingredients together and then form cookies. Comfortably makes 12 cookies spread over (2) 11 x 7 inch baking pans.
If you are using a Heaven's Flame type of cooker where the food will not be flat, consider using a couple of 11 x 7 inch mini-muffin pans. With two of these, you can make 18 to 24 mini-cookies (enough for everyone in the class!).
I find that using a 50/50 mix of raisins and chocolate chips makes for a cleaner eating experience. However, if you use raisins, be sure not to bake too long (more than 2.5 hours) because raisins start becoming crunchy after awhile. Cooks in as little as 25 minutes in a hot oven or 1.5 hours in a cooler oven.
Source: SolarCooking.Wikia.com
As with all recipes for solar cookers, your cooking times may vary, depending on the sun, your solar cooker, the temperature of your solar cooker, your location on the planet, and any other number of factors. Just remember that this should be fun to experiment with. Try a few different recipes, note the position of the sun in the sky, and try to make sure your solar cooker stays pointed at the sun the whole time it is cooking. Note how long it takes food to cook in your cooker, at your location, during the time of year you are cooking your food, and adjust the recipes accordingly.