Solar Pavlova: Solar Cooker Desserts
Solar Cooker Desserts: Solar Pavlova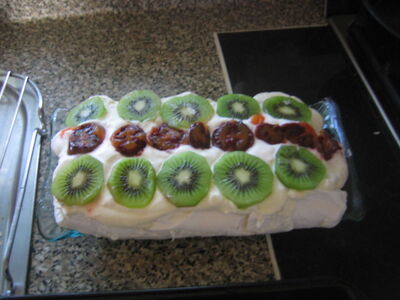 4 egg whites


4 T cold tap water


1 1/3 cups caster sugar (very fine granulated sugar - could use regular white sugar)


1 1/2 t vinegar (preferably white)


1 1/2 t vanilla essence


4 t cornflour (called 'cornstarch' in the US)
Topping:
sliced fresh fruit (e.g kiwifruit, strawberries, peaches, tamarillos) or berries, passionfruit pulp, pomegranate seeds etc. - whatever is available
Place egg whites, water and sugar in a bowl. Beat gently to mix and then beat until very stiff (10 minutes on high with an electric beater). Mix vinegar, vanilla essence and cornflour to a thin paste. Add to egg white mixture and beat until it is so stiff that you can fully invert the bowl and nothing moves (further five minutes with an electric beater).
Line a black tray with baking paper and spread mix on. It should be about 1 1/2 - 2 inches high and come no closer than 1 inch from the edge of the paper. Smooth over the top. If the container is taller than the batter then fix a black lid tightly onto the container; otherwise put props around the edge to hold the lid off the batter and then cover it with tin foil painted black on the outside.
Bake in a preheated solar oven 3-4 hours. It will have a marshmallowy texture with some crispness on the outside. Transfer to a serving plate and decorate with whipped cream and fruit.
Serves 6-8
Note 1: to cook in a conventional oven, bake for 45 min at 150 deg. C and then leave to cool in cooling oven.
Note 2: if you have no immediate use for the four egg yolks then mix them well with either 1/8 tsp salt or 1 1/2 tsp sugar and freeze for later use in custards, pastry, lemon curd, ice cream etc.
Source: SolarCooking.Wikia.com
As with all recipes for solar cookers, your cooking times may vary, depending on the sun, your solar cooker, the temperature of your solar cooker, your location on the planet, and any other number of factors. Just remember that this should be fun to experiment with. Try a few different recipes, note the position of the sun in the sky, and try to make sure your solar cooker stays pointed at the sun the whole time it is cooking. Note how long it takes food to cook in your cooker, at your location, during the time of year you are cooking your food, and adjust the recipes accordingly.